Assisted Living Memory Care
How Can I Be More Supportive of My Family in Assisted Living and Memory Care?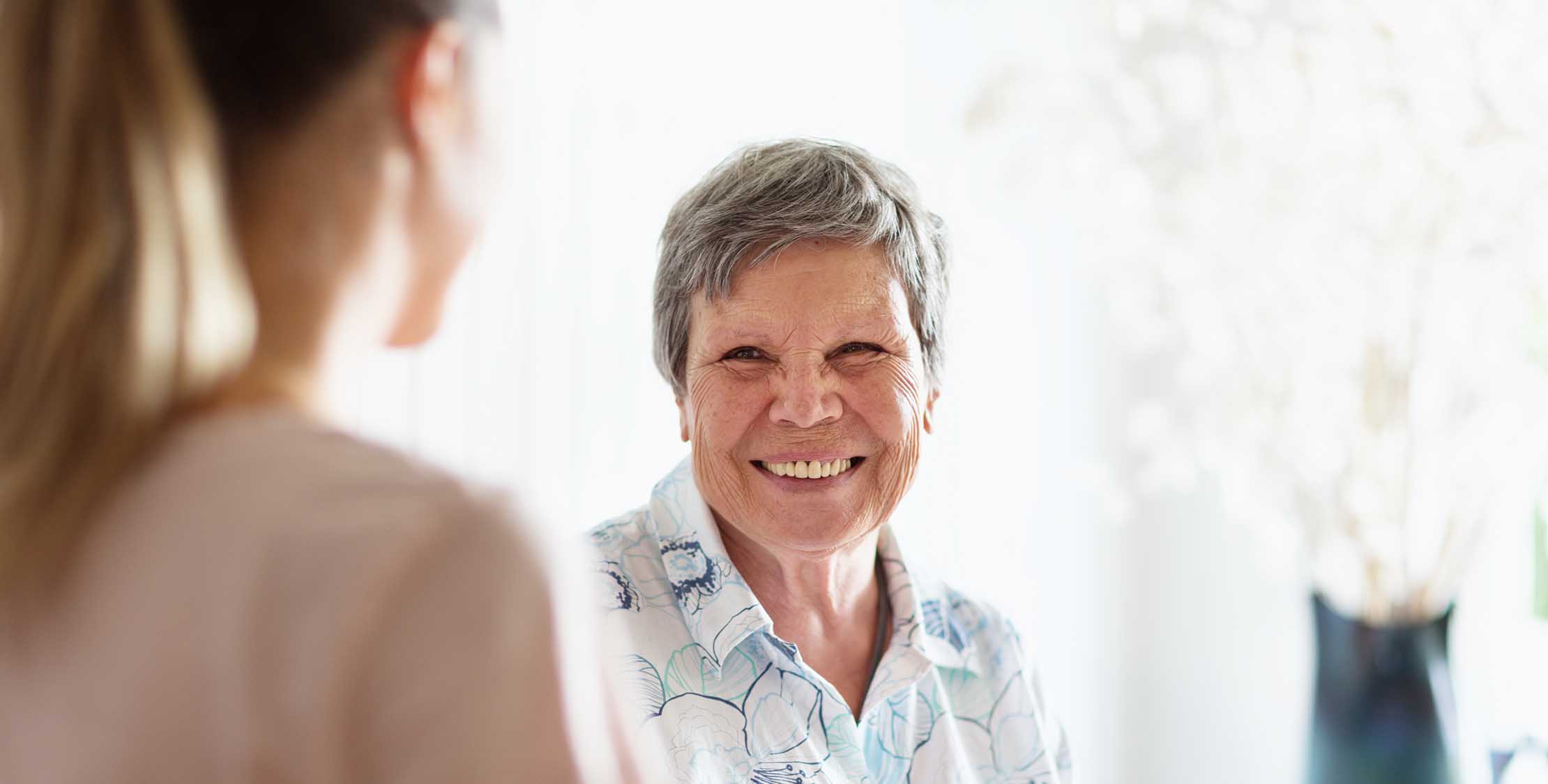 Moving a family member to assisted living or memory care is a big change.
Even when you're enthusiastic about the community and know it's the right decision, the transition can still be tough. A new environment with unfamiliar faces can be a lot to process.
As your family member joins a senior living community in Simi Valley, ease their fears and anxieties by providing a multi-layered support system. Here we'll go over key areas of support to nurture a successful transition.
---
Understanding Their Needs
Take the lead on understanding what your family member requires to thrive. Every individual is unique, with different needs, preferences and interests. You can help your loved one settle in by ensuring these wishes are met.
For example, your loved one in Simi Valley memory care may feel distressed by a new environment. You can help by bringing personal photos and items that make their space feel like home.
In addition, get to know the conditions and challenges your family member may be facing. Perhaps your loved one is struggling to accept new levels of support in assisted living in Simi Valley. Or they're missing a favorite place, such as a hairdresser or church group. Work closely with your loved one to understand how to tailor their care.
---
Regular Visits
The Varenita team is focused on the well-being of your loved one. We'll work with you to discuss the visit schedule that's best for them. These visits may be infrequent in the beginning to allow them time to acclimate, but rest assured, we prioritize opportunities for your family to come together. Face-to-face time is often the most meaningful and gives your loved one a sense of comfort. You'll also be able to see for yourself that everything's going smoothly with their care.
While it's a great idea to spend special events with your family member (such as birthdays, anniversaries, etc.), regular contact can be just as significant. Having a set day of the week to visit can give your loved one something to look forward to.
Consider carefully how to make the most of your visits. Ultimately, quality is more important than quantity. Think of an activity you can do during your visit, such as sharing a meal or walk. You might also look through old pictures, listen to a favorite album, play a board game or read a book aloud.
---
Emotional Support
Be a shoulder to lean on. Offer your loved one emotional support by listening to both their joys and complaints. Whatever they're missing, needing or hoping for, try to be the solution.
Let's say that your loved one is frustrated because the aide doesn't let her choose which clothes to wear. It's important to empathize with her and then ask the community about the situation.
Perhaps your loved one wanted to wear clothes that weren't appropriate for the season. In that case, it makes sense that the aide would have selected a different outfit. However, often there's an opportunity to help your family member preserve their dignity regardless. You might ask the aide to lay out two options for clothing every morning, so your loved one can choose and retain her sense of independence.
Emotional support isn't just listening, but also encouraging your family member to get involved in the community. Specifically, show them the calendar of activities and motivate them to meet friends at classes, meals and more.
---
Involvement in Senior Living Care Plan
Your family member's care plan should be constantly revised and updated. Support them by keeping close track of their care.
Over time, their needs may evolve and more comprehensive support may be required. We offer increasing levels of senior care, so you can choose the one that's right for your loved one.
Collaborate with the care team on a regular basis to personalize your loved one's support and get reports on how they're doing. In this way, you can better advocate for your family member's needs and preferences.
---
Sending Care Packages
It's the little things that can make a big difference. A small gesture of thoughtfulness can brighten up your loved one's day.
If you don't live near your family member, you can show you're thinking of them by sending regular care packages. You might include personal items such as photos, favorite snacks, puzzles, comfy socks, gardening supplies, etc. Don't forget about including a handwritten note, too!
---
Leveraging Technology
Connect with your loved one using latest technology. You can join video calls or send fun messages over text. Plus, your family member can enjoy the technology for their own entertainment, such as reading, listening to music and playing games.
Before you start maximizing technology, be sure to set it up for your loved one. This may involve getting a senior-friendly tablet, installing the right apps and creating logins for them. It's often a good idea to demonstrate how to open and use these apps, too.
If needed, your care community in Ventura County can help assemble in-suite technology such as video calls, tablets and apps. In case you're not a local, ask if they can help get your loved one set up.
---
Encouraging Autonomy and Independence
Finally, supporting your family member means respecting their decisions.
While you can encourage your loved one to participate in activities in the senior living community, it's ultimately their choice. Don't force them to get involved when they're not interested.
The best you can do is foster a sense of independence in your loved one. Ensure they feel comfortable getting around the community, so they can explore different classes/clubs and meet friends in common spaces. And if you notice any barriers to their independence, speak to the community about possible solutions.
---
Support Your Family Member at Varenita of Simi Valley
Getting settled into a new assisted living or memory care community in Simi Valley takes time. Yet, you can make the change as seamless as possible for your family member with these recommended actions above.
As you offer a helping hand to your loved one, be sure to approach the transition with patience and understanding. Moving to a care facility may bring up a range of emotions for your family member. Be as present as possible to help ease their fears and integrate them into the community.
At Varenita of Simi Valley, we work closely with new residents and their families to create a friendly, personalized transition plan. Learn more about senior living care options in Simi Valley and how we honor every individual during their transition.
---
FAQs
How often should I visit my family member?
There's no set rule for how frequently you should visit. Often this depends on whether you live locally and/or have funds to travel. Your family member's health situation and preferences may also be major factors.
For example, it's common for families located nearby to visit once a week. For those who live far away, this might be more like once a month. Ultimately, you can provide support for your loved one beyond just visiting in person. For instance, your family member may feel comforted by a simple phone call every other day.
If you're not sure how often to visit, ask the community staff for what they think may be beneficial. Since they interact with your loved one every day, they may have good insights for you to plan your visits.
What should I do if my family member is resistant to communication or visits?
First, get some clarification from the community. Find out why your family member may be avoiding visitors. For example, maybe they're feeling embarrassed about changes to their health. Or perhaps they're feeling "abandoned" by their family.
No matter the underlying reason, don't give up. Try other ways to connect with your loved one. You might send a card, photos or flowers to show that you care. When you speak to them, focus on topics beyond their health, so they know you're keen on simply enjoying their company.
Don't forget to enlist other family members, too. Sometimes a fresh face (such as a sibling or grandkid) can give your loved one a new perspective.
How can I involve other family members in providing support?
Tag-team with your other family members to provide a robust support system. You might plan your visits to stagger nicely or set up a care package "carousel" with every family member assigned to a different month.
Keep in mind that every family member may have a unique sense of how to provide support, so let them show care in their own way. For example, your young child may draw a picture, your spouse may bake homemade bread and your sibling may create a list of books that your loved one might enjoy. Allow every family member to engage in a way that makes sense to them.