Retirement
Downsizing Before Moving to Senior Living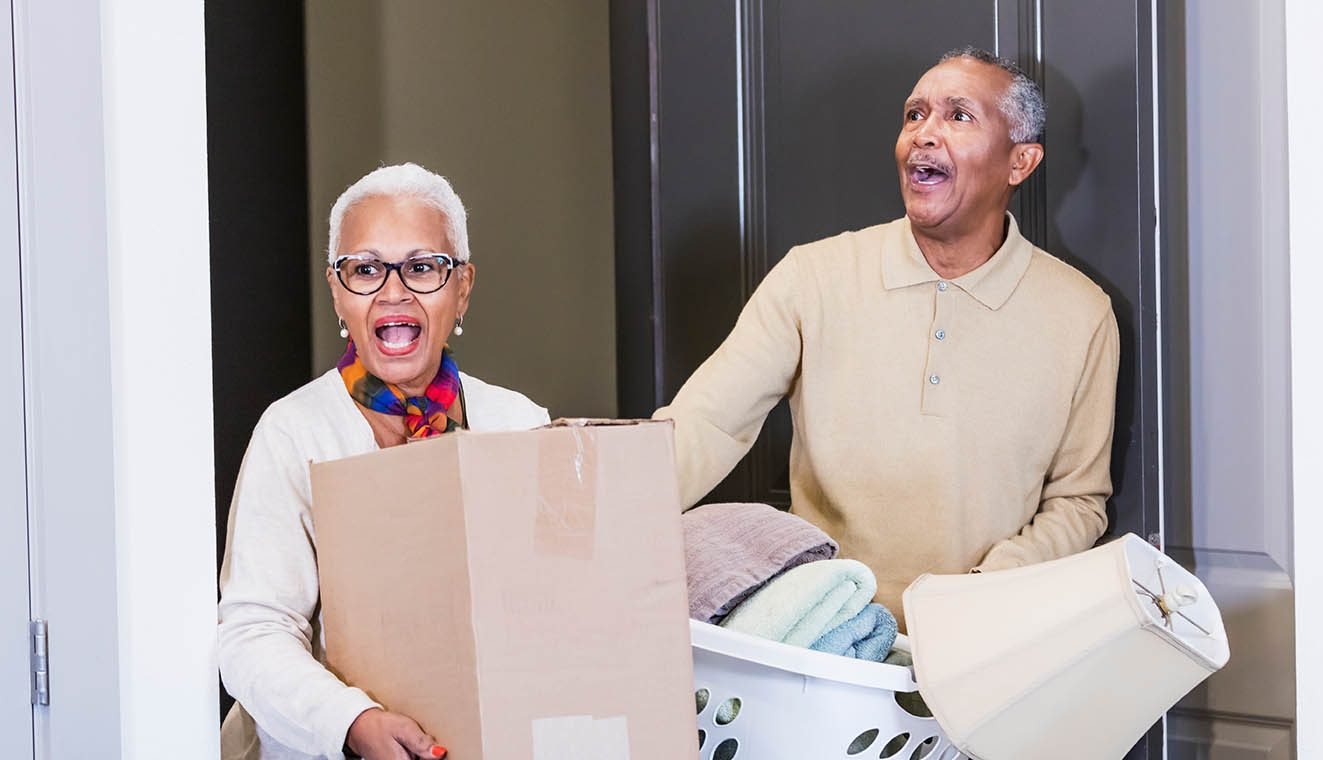 Moving to senior living can be emotionally challenging, especially if older adults are transitioning out of a family home where they've lived for decades.
As you or your loved ones get ready for this big change, it's important to have a downsizing plan in place. The downsizing process can take months of advance preparation and require some careful decision-making. 
Here's how to offer downsizing help for the older adults in your life, so that the move goes smoothly and your loved one can focus on maximizing community living.
---
When is the Right Time to Downsize?
Downsizing is a great idea for older adults and seniors who no longer need a full-sized home for their needs and/or feel overwhelmed by maintaining it. Downsizing can provide key benefits for seniors, such as:
Simplify lifestyle: No yard work, home maintenance, or extra rooms to clean. By downsizing, individuals can shed chores and focus on their personal enjoyment.
Cut costs: A large home comes with a high price tag, not only in terms of the mortgage but also the utilities, taxes, and more. Moving into a smaller home helps reduce costs significantly for families.
Limit hazards: A house with lots of stairs and clutter may cause falls. In addition, many family homes aren't equipped with safety features, such as lighting, grab bars, and more.
Reduce isolation: Downsizing can also give older adults permission to explore beyond their apartment and get easy access to community activities.
After talking about these benefits with your aging loved ones, there are some concrete plans you can make to help them stress or worry less during the process.
---
1. Know Your Future Floor Plan and Community Policies
To best plan a senior move, know the new space's measurements. Having the floor plans upfront will help you and your loved one realistically choose which of your current items will fit in the new space.
In addition, find out the senior living community's policies about move-in. It's possible the community will paint beforehand or allow you early access to the apartment. Some senior living communities even offer complimentary move-in services, something Varenita likes to offer its residents. 
---
2. Take The Downsizing Process Slowly
Ideally, start the downsizing process 3-6 months before the move to senior living. Set a timeline for sorting through the house, especially if it's a large family home.
Before getting started, go through the home and decide what items matter most, as this can help you or your loved one make tough choices later on.
From there, assign a room to tackle every week or so, so that you don't feel rushed as you go through everything.
---
3. Sort Strategically
For downsizing to go smoothly, it's essential to sort items strategically into keep, donate, give to family and toss piles. A few essential guidelines include:
Start with "heart of home" rooms first (living room, kitchen, etc.), as this is typically where everyday items and emotionally valuable items are located.
Use the one-year rule. If your loved one hasn't used it in a year and it's not an emotionally valuable item, don't keep it around.
Get rid of duplicates and consolidate collections. Don't allow any duplicates and ensure that collections are pared down for the move. For example, if your loved one collects antique bells, have her choose three favorites and give away the rest. You can even digitize photos of the other bells so she can look back on them.
Start early with heirlooms. Some heirloom items such as grandfather clocks may take longer to sell. Start early with these pieces, especially if they're larger.
---
4. Allow Time for Reminiscence
Going through a family home can bring up memories of all kinds. Give yourself or your loved one the space to reminisce about the good and the bad. You may enjoy reminiscing together. This will emotionally prepare you both for the transition, instead of it feeling like a whirlwind.
---
5. Don't Consider Storage Units
Storage units tend to delay the sorting process, so try not to use one. It's best to handle all items now, while your loved one has the ability to decide.
For high-end furniture or pieces, consider an estate sale. Nonprofits can also be a key partner in donating items to other families, or finding forever homes for collectibles in museums or universities. Your loved one may like the idea of donating certain items knowing they'll be put to good use elsewhere.
In addition, you can sell stuff through online auctions or a garage sale in order to clear out the clutter for less important items.
---
6. Get Help with The Packing and Moving Process
Once items are sorted, you may need an extra hand with landfill runs, or packing and moving boxes. Enlist family and friends, or even contact a senior move manager who specializes in these types of transitions.
---
7. Hire A Senior-Friendly Moving Company for Day-of Needs
Most of the downsizing work is done long before moving day. However, don't forget to plan the logistics for the day-of.
If you are helping a loved one move, ideally, you should move your loved one's items in advance of their arrival. This gives you time to set up the space and make it feel like home for your loved one. For example, you might plan to move items on Saturday morning and have your loved one arrive on Sunday night.
---
8. Pack An Essentials Bag for Moving Day
Make sure the most important items don't get lost in the shuffle. Pack an essentials bag with some clothes, toiletries, medications, documents, entertainment items and everything else you'll need on their first day.
---
9. Make the New Space Feel like Home and Minimize Hazards
Take the time to spruce up the new apartment so that when you move in, the place will already start feeling like home. You should also check for any hazards on moving day. Make sure the bathroom has grab bars and that the emergency system is in good working order.
---
10. Don't Forget About Encouraging New Connections
Finally, encourage your loved one to connect with others from day one. Get them excited about certain perks and amenities, and have them join classes or clubs ahead of time. Some assisted living facilities will even put together a first-week schedule to help residents integrate with the community.
---
How Family Members Can Help
There's plenty that family members can offer during the downsizing process, such as:
Emotional support: Stay patient and empathetic, and listen to your loved one's needs during this time.
Sorting process: Volunteer to help sort items every Saturday, so that you can make headway together.
Logistics: Handle key logistical concerns, such as forwarding mail and filling medications, etc.
Moving day: Help with moving boxes or hosting your loved one while other family and friends handle the move.
---
How An Assisted Living Facility Can Help
You should also get in touch with the assisted or independent living facility, as they may provide some help with areas such as:
Pre-move questions: Get all your questions answered, so you can properly plan the move and get help from the senior living community as needed.
Room prep: Some communities will assist with room prep, such as painting or creating a welcome basket, so be sure to ask.
Day-of integration: Ensuring that your loved one connects with the community is essential. Find out how caretakers, staff and the community will help integrate them.
---
In Summary
Providing downsizing help for seniors moving into assisted living or memory care can be a long, demanding task. However, it's highly rewarding to see your loved one make the move and find peace, safety and community in their new home. Plan the downsizing process as much as possible so that you and your loved one can concentrate on this new chapter and take full advantage of the benefits of community living.
For more information on how we help seniors move, reach out to our team here.